The Origins of Shindō Musō-Ryū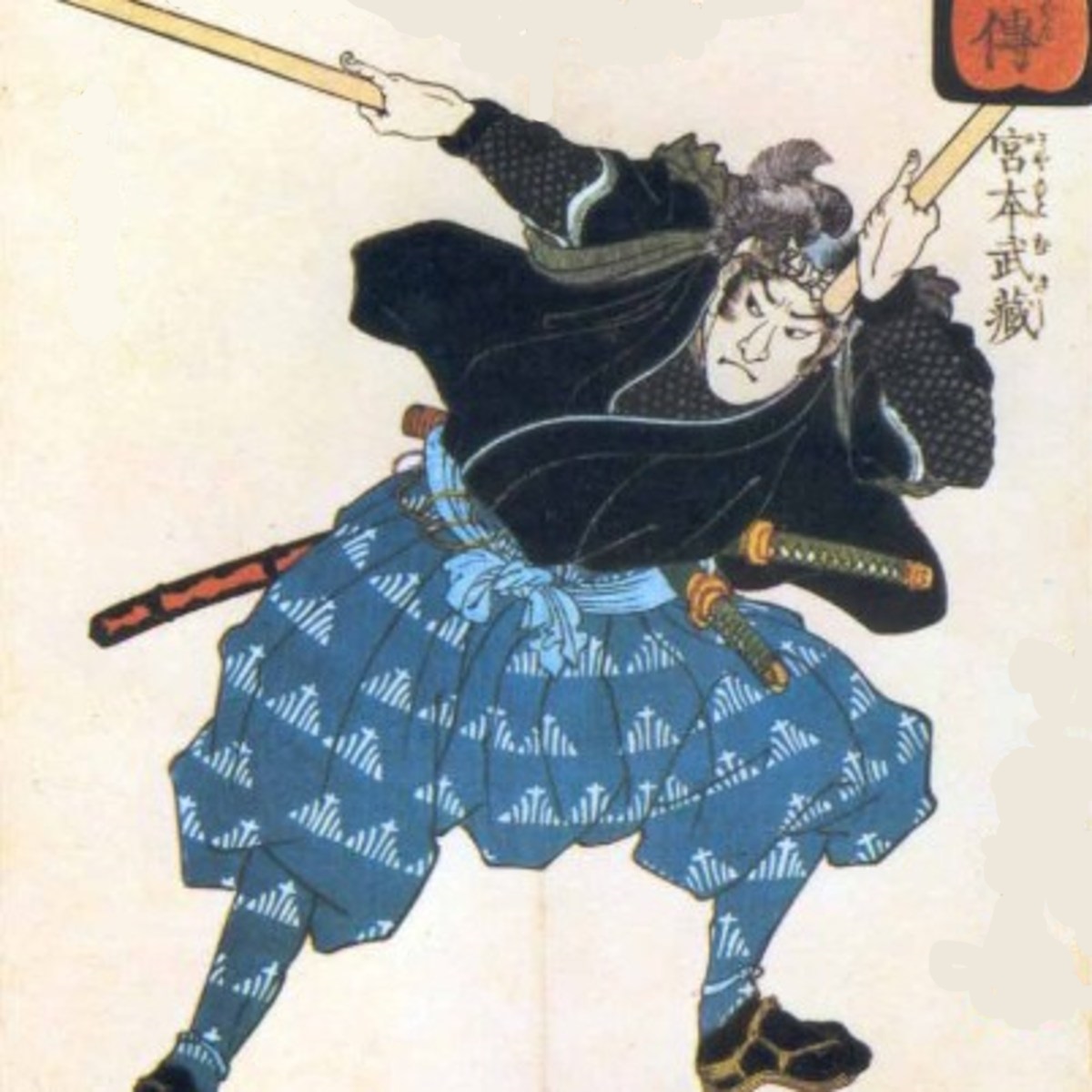 In many respects the art of jōjutsu owes its existence to Japan's most famous and formidable samurai: Miyamoto Musashi (ca. 1584—1645), the kensei ("sword saint"). Had it not been for his indomitable spirit, the art would likely never have been created. Another highly renowned swordsman of Musashi's era was Gon-no-suke Katsuyoshi (ca. 1580—ca. 1640). Gon-no-suke was a descendant of a famed samurai and a master of two major styles of kenjutsu: Tenshin Shōden Katori Shintō-Ryū and Kashima Shinden Jikishinkage-Ryū. Around 1595 he embarked on a musha shūgyō, traveling throughout Japan seeking duels with the finest swordsmen of his era in order to test and perfect his skills. Musashi, on the other hand, was a rōnin (masterless samurai) of modest origins, with no credentials from any recognised school of swordsmanship. He, too, was on a musha shūgyō, and both men were undefeated after many duels and had growing reputations. Gon-no-suke even had his lapels imprinted with the words, "Nihon kaizan musō Gon-no-suke" (Gon-no-suke: unequalled in Japan from the seas to the mountains") and "Heihō tenka ichi (greatest warrior under heaven).
So it seems inevitable that two such men would meet in a duel that would be legendary!
The two did meet around 1607 and Musashi defeated Gon-no-Suke handily. A dejected Gon-no-Suke retreated to nearby Mount Hōman to contemplate his humiliatingy defeat. He spent 37 days fasting and training at Kamado Jinja, a Shintō shrine atop the mountain. After a particularly rigorous day of training, Gon-no-suke fell asleep exhausted and had a dream in which an angel in the form of a young boy appeared and instructed him, "Maruki o motte, suigetsu o shire," which translates as, "Employing a round stick, understand the moon's reflection in water." The angel then gave Gon-no-suke the precise dimensions to fashion the stick: yon shaku ni sun ichi bu (50.23 inches) in length and hachi bu (.95 inches) in diameter. Gon-no-suke fashioned a jō as the angel had instructed him, and adapted the techniques of the yari (spear), naginata (halberd), and bō (six-foot staff) to its use, applying the concept of the moon's reflection in water. The man who walked down the slopes of Mount Hōman was no longer Musō Gon-no-suke (無双權之助), the "unequalled." His divide dream, deep contemplation, and intense training on the mountain top had transformed him into Musō Gon-no-suke (now written 夢想權之助), the visionary!
It is not known how much time passed before Gon-no-suke and Musashi met for the second time. The most likely opportunity would have been around 1612 to 1613, when Musashi was known to be in the vicinity of Mount Hōman, having just defeated Sasaki Kojirō nearby in another famous duel. Otherwise, their second meeting would probably have been considerably later, around 1630 when Musashi passed through Fukuoka Han (domain), where Gon-no-suke was serving as a vassal to the Kuroda family, on his way to the neighbouring Kumamoto Han, where he remained for several years. There are two accounts of their second duel: one in which Gon-no-suke defeated Musashi with the jō, and one that claims they battled to a draw. In either case, it was a vindication for Gon-no-suke personally and indisputable proof of the effectiveness of his creation, the jō.
For nearly 300 years, jōjutsu was practiced exclusively by samurai of the Kuroda domain, so at the dawn of the 20th century, jōjutsu was still an obscure form of budō known only to a handful of people outside the city of Fukuoka, Japan. But that was soon to change.