The Origins of Aragaki-Ryū
At the dawn of the 20th century, Okinawa kobujutsu was a dying art. The word "kobujutsu" means "ancient peacemaking arts," and the systematic use of the bō (six-foot staff), eku (sculling oar), and other kobujutsu weapons predates the development of karate in the Ryūkyū islands. But, with the abolition of the samurai caste, and the annexation of the Ryūkyū islands as a prefecture (ken) of Japan, the need for, and interest in, kobujutsu was waning. Although karate-dō was enjoying a resurgence in Okinawa as a result of being introduced into the public school system as part of the physical education curriculum, kobujutsu was quickly being forgotten. One of the few remaining practitioners of the art was Aragashi Seishō.
Aragaki Seishō (left) was one of the most important figures in both karate and Okinawa kobujutsu of the 19th century. He served as an official translator in the royal court of Ryūkyū and frequently traveled to China in his official capacity. Aragaki was also one of the principle sensei to karate legends, Higaonna Kanryō and Mabuni Kenwa. He created several kata (training patterns) still practiced today, including Aragaki-no-kon, Sesoko-no-kon, and Aragaki-no-sai. Although Aragaki never formally established a style of his own and cannot be considered the founder of Aragaki-Ryu, in the truest sense he was certainly the progenitor or "father" of the style.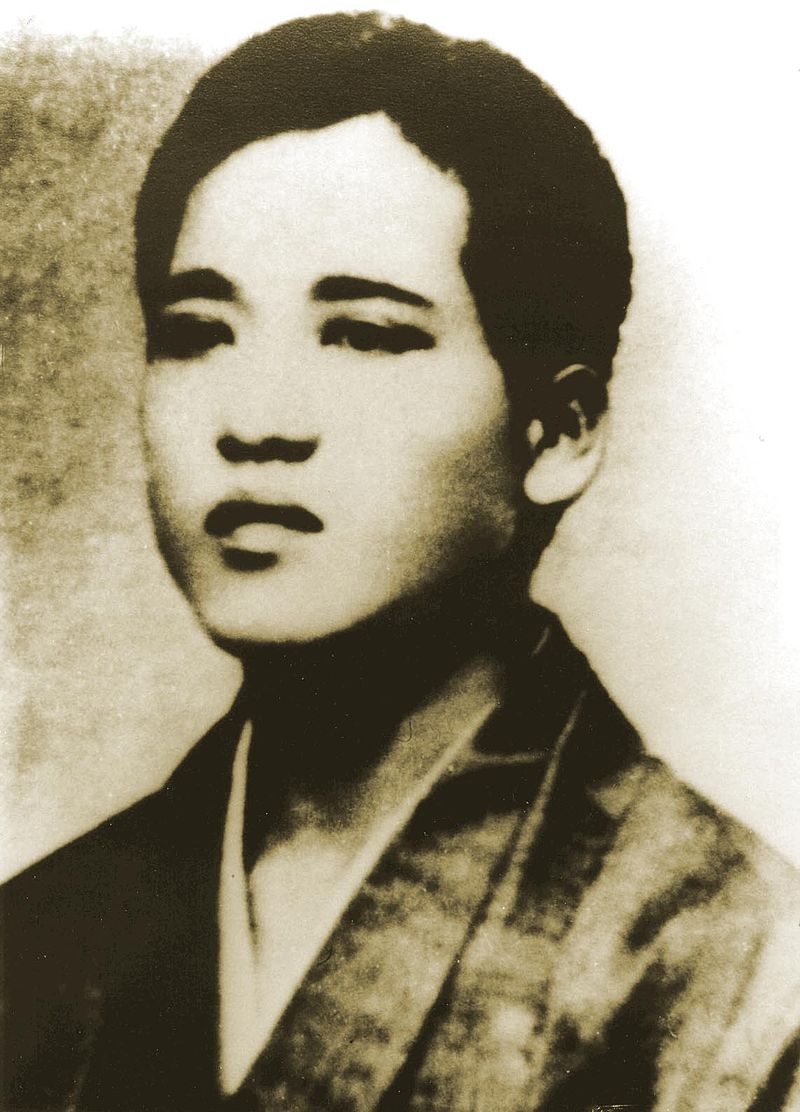 Aragaki Ankichi was the son of wealthy Okinawan sake brewers. It is not known what relationship he had, if any, to Aragaki Seishō. He was a gifted athlete and quickly developed into an acknowledged master of both karate-dō and Okinawa kobujutsu under the tutelage of Hanashiro Chōmo, Shiroma Shimpan, Chibana Chōshin, Motobu Chōki, and Kyan Chōtoku. During his tragically short life, he was sought out for instruction by several of the renowned karate and Okinawa kobujutsu masters of the 20th century, and was a close friend of Mabuni Kenwa. He gained notoreity for killing a man with a single tsumasaki geri (toe kick) to the thigh during a fight. He died of stomach ulcers in December 1927 at the age of just 28, yet is considered one of the most influential budōka of his time.
Two other key figures in the development and popularisation of Okinawa kobujutsu were Yabiku Mōden (1882—1945) and Taira (Maezato) Shinken (1897—1970). Yabiku Mōden made it his life's work in the early 20th century to collect as much knowledge of the dying art of Okinawa kobujutsu as possible and preserve it. In 1911, he moved to the Japanese mainland and founded the Ryūkyū Kobujutsu Kenkyū-Kai (Ryukyu Kobujutsu Research Association). His chief pupil was Taira Shinken, who returned to Naha, Okinawa in 1941, and founded the Ryukyu Kobujutsu Hōzon Shinkō-Kai (Ryukyu Kobujutsu Preservation Society) in 1955 after the training ban was lifted by the America occupation forces.
Higa Yasuhiro (1908—1984) was born and lived the first half of his life in Naha, Okinawa. Like most members of the Higa family, he began his training in karate-dō and Okinawa kobujutsu as a young boy, first with Aragaki Seishō and later with other notables, including Aragaki Ankichi, Chinen Masaami, and Taira Shinken. However, most of his training came from other members of the Higa family, probably including the renowned Higa Seikō, several of whom had studied extensively with those experts. Any records of his education were destroyed during the battle of Okinawa, and there is no record of him ever serving in the armed forces. After completing his formal education—probably middle school—around 1925 he got a job with the Okinawa Kenei Tetsudō (Okinawa Prefectural Railway) as a maintenance worker. The railway was destroyed during the Battle of Okinawa and never rebuilt. This prompted Higa to move to mainland Japan shortly after the war, where he found work with the Nippon Kokuyū Tetsudō (Japan National Railway) in Nagoya, where he remained employed as a maintenance worker until his retirement in 1969.
After the post-war ban on martial arts training was lifted in 1953, Higa began teaching his eclectic form of Okinawa kobujutsu. Unfortunately, there was still widespread prejudice against Okinawans and Okinawan culture in mainland Japan, so he attracted few students. Among the first to begin training with him was Sakakibara Kazuo (1921-1992). Higa Shihan was never able to establish a dōjō of his own. Instead, most of his instruction from the mid-1950s until his death in 1984 was conducted in the garden of Sakakibara Kazuo's home in Nagoya. Sometime in the mid-1950s, as karate and Okinawa kobujutsu styles were proliferating, his students suggested that Higa register his system with the Dai Nippon Butokukai as Higa-Ryū. But Higa objected, saying: "I did not create any of this. I only pass on what I learned from others." When pressed to provide a name for his style, he said: "If you must call it something besides just Okinawa kobujutsu, say Aragaki-Ryū, because Aragaki's teachings are its primary source."
Higa Yasuhiro died of a stroke in 1984. As Higa's senior student, Sakakibara Kazuo took over responsibility for teaching Aragaki-Ryū, and training continued in his garden until his death from lung cancer in 1992. At the time of Sakakibara's death, Shōda Hideo (1941-) was his senior student, having begun his training in Aragaki-Ryū soon after moving to Nagoya in 1963. With Sakakibara Shihan's garden no longer available, Shōda Shihan partitioned off a section of the storage room above his bicycle shop in Nagoya and converted it to the style's first indoor dōjō.
Leonard J. Pellman Shihan was first introduced to Aragaki-Ryu in 1968, while living in Japan as a high school exchange student. He lived with the family of Shōda Hideo's uncle in Toyokawa, a city located about 50 miles from Nagoya. When the family learned of Pellman's interest in budō, they arranged for him to visit Nagoya several times as a guest of Shōda Sensei and train with Higa Shihan. After returning to the United States, Pellman attended several summer training camps taught by Richard Kim that developed his interest in Okinawa kobujutsu further. In 1973, Pellman returned to Japan and spent two months as an uchideshi (live-in student) with Higa Shihan and his senior students, including Sakakibara and Shōda. When Pellman returned to Japan again in 1981, Higa Shihan promoted him to shodan (1st dan), the last dan ranking issued by Higa Shihan before his death.
Pellman continued his Okinawa kobujutsu training with such masters as Shimbukuro Masayuki, Arashiro Tomohiro, and others. After co-authoring the karate textbook, Katsujinken: Living Karate & The Way of Self-Mastery, Pellman approached Shimabukuro Hanshi about writing a similar book on Okinawa kobujutsu. At the time, however, Shimabukuro Hanshi was focused on expanding the Kokusai Nippon Budō Kai worldwide, and writing the sequel to Katsujinken. He was also de-emphasizing Okinawa kobujutsu at hombu dōjō, so he declined.