Shimabukuro Masayuki Hidenobu Hanshi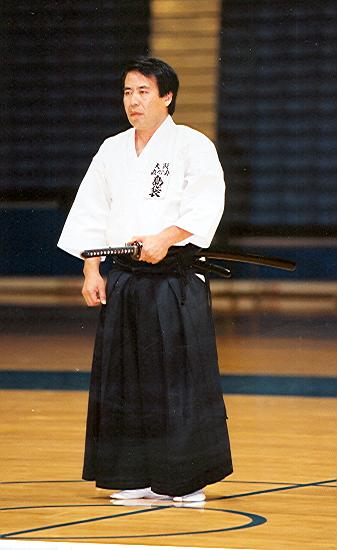 From humble beginnings, Shimabukuro Masayuki Hanshi rose to become one of the most accomplished and influential martial artists of modern times.
Born 27th March 1948 in Ōsaka, Japan, Shimabukuro Masayuki Hanshi began his budō training in his early teens with jūdō, karate-dō, and Ryūkyū kobudō. By the age of 30 he held dan (black belt) rankings in several styles of budō. But it was in 1975 and the commencement of his training in Nippon kobudō that would have the most profound impact on his life and his future in budō. It was in the same year that the Nippon Kobudō Jikishin-Kai was founded that Shimabukuro Hanshi became a direct student of the Jikishin-Kai's founder, Miura Takeyuki Sōshihan.
A Shintō priest, Miura Sōshihan established the hombu (main or headquarters) dōjō on the grounds of Yasaka Jinja, a Shintō shrine in the Neyagawa district of Ōsaka, Japan, and it was there that Shimabukuro Hanshi began his study of iaijutsu and jōjutsu. It was also there that Shimabukuro Hanshi began his transformation from a budō afficianado into a man imbued with the true spirit and character of a samurai! By the time he moved to the United States ... (full article here)